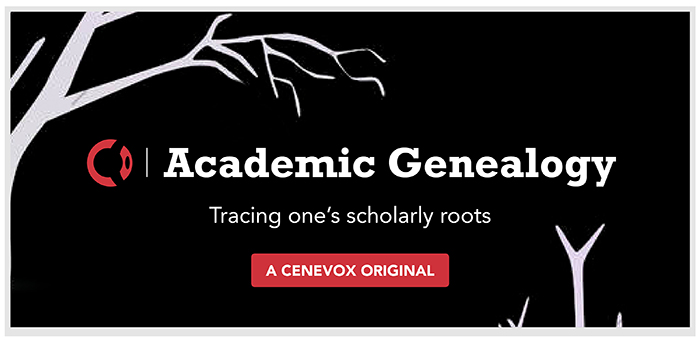 My academic lineage includes American Psychological Association co-founder Edward Wheeler (Ph.D., 1891, Leipzig University) and American Council on Education for Journalism accreditation designer and Missouri School of Journalism Dean Earl F. English (Ph.D., 1944, University of Iowa).

My predecessors trained at both private, ivy league institutions as well as flagship public research universities in the midwest. They are united by an interest in social interaction, culture, and the arts.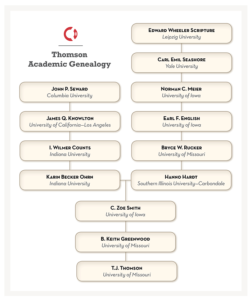 Here's a section of the first nine branches of my family tree. (I've identified as many as 18 generations on my paternal grandfather's side, so far.)
Interested in tracing your own academic family tree? Here's how to go about it:
Track down your academic adviser's dissertation. A good chance exists that it's archived online in an institutional repository, like MoSpace at the University of Missouri. My adviser, Keith Greenwood, published his dissertation in 2006. Most dissertations in the past couple decades have been archived electronically so it's often easy to secure a PDF with just a few clicks. The dissertation adviser is usually explicitly denoted by title, but if not, it's the first signature in the list.
Once you have the name of your adviser's adviser, you can track down their dissertation to start the process over again. WorldCat can help with this. Type in your ancestor's name and the service will return a list of results including the title of the dissertation, when it was published, and which libraries or archives have copies (and in which formats). From there, you can usually request a copy of the physical work itself, a microform copy, or, possibly a PDF through your institution's Interlibrary Loan service.
If you're lucky, some other nerd will have also traced their academic lineage and will have a common ancestor in common with you. That was the case with this fellow at Yale, who also has Carl Seashore in his genealogy. He kindly traced back my lineage an additional 10 generations. To take advantage of any footwork someone else has already done, perform a few quick internet searches of "academic lineage" or "academic genealogy" along with the last names of two of the people in your tree. With any luck you'll find another kindred soul and some common ancestry.
Good luck and happy searching!