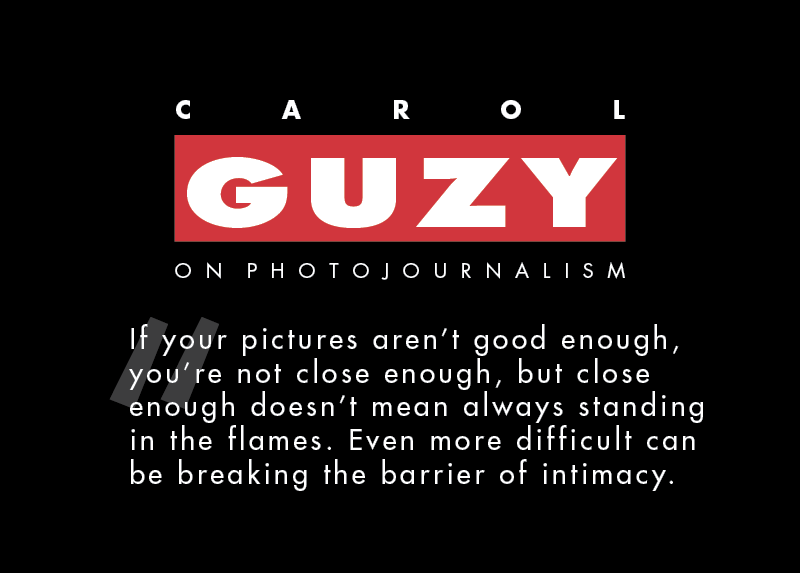 Photography is as essential to her as oxygen, veteran photojournalist Carol Guzy told an audience of more 150 assembled at the University of Missouri's Reynolds Journalism Institute.
Guzy, a four-time Pulitzer prize winner that currently works at the Washington Post, gave advice, shared her work, and answered questions during one of several master class sessions the Missouri School of Journalism hosted on Oct. 29, 2013.
Reading from a list of tips for aspiring photojournalists, Guzy offered four pieces of advice — the first three humorous but the fourth one serious and gripping:
"If your pictures aren't good enough, you're not close enough, but close enough doesn't mean always standing in the flames," Guzy said. "Even more difficult can be breaking the barrier of intimacy."
Guzy shared parts of her professional career, including how she's compensated for her height, which she said has disadvantaged her. One such time was in 1989 when she watched the Berlin Wall's first pieces come crashing down.
"The morning they were about to take out the first chunk of the historic divider of two worlds, I found myself in a crushing crowd, unable to see anything," Guzy said. "So I surveyed the scene and noticed a very large, sturdy German male tripod smiling at me, so he graciously put me on his shoulders and spent one of the most memorable moments of his life with my camera clanging on his forehead."
Photographers sometimes put restrictions on themselves or hinder themselves with their own self-doubt. She said communication can solve a lot of problems.
"It's amazing what people will do if you just ask," Guzy said.