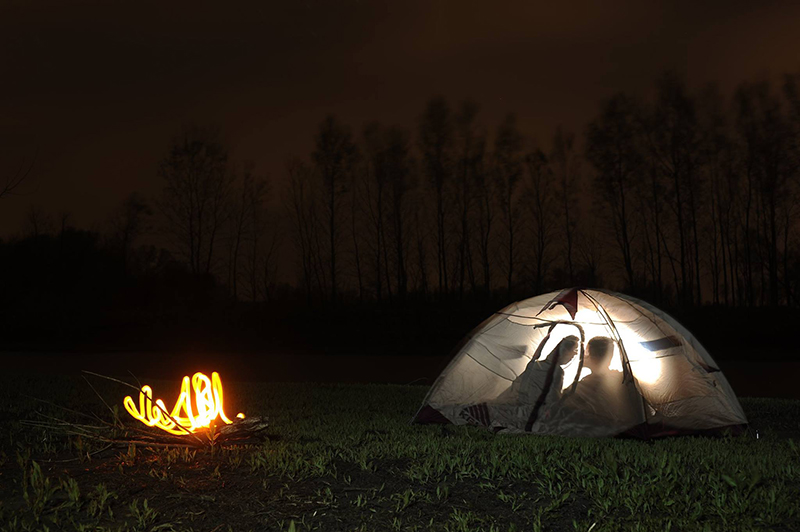 With an hour 'til the sun set, our group set out on Sunday evening to the Eagle Bluffs Conservation Area at the southwestern edge of Columbia.
Upon arriving, we explored the gorgeous terrain, complete with herons wading in wetlands and a large turtle slowly crawling through a field on his way to a nearby river. We made camp alongside a body of water flanked on one side by a woody outcropping and set up our camera facing away from the city, so as to avoid as much light pollution as possible.
Dubbed the group member with "The most distinctive profile," I set up shop in the tent and backlit my face with Mark's PocketWizard-triggered flash as he and Hannah worked out exposure and positioning. Initially, we had only a small plane on the tent with which to work and ensure that the silhouette was positioned on this surface without being overly distorted. Eventually, we collapsed one of the tent's external panels on the side closest to the camera so that we only had to worry about positioning with one panel instead of the previous two.
Once Lili arrived, Hannah joined me in the tent and added another backlit flash so that we could simulate a romance scene happening inside. Lili positioned herself outside the tent and fired another flash (set at 1/32 power) to provide more definition to the tent's exterior.
Once these three flashes were fired, Hannah would exit the tent and use a flashlight gelled with warm colors to paint a fire over a pile of driftwood positioned to the left of the tent.
Finally, Mark would light the grass in front of the tent with a diffuse flashlight and then walk back and forth along the bank for 30 seconds or so painting the river's edges.
We repeated this set of activities multiple times each times for each four-minute exposure we created.
At one point, we tried to position Lili's car on the gravel road to illuminate the trees on the other side of the water, however, the light spread was too great and so we scrapped this method and let the ambient light illuminate the trees by bumping up our exposure time instead.