Have you heard the newest online buzz? Justin Bieber turned to steroids for his newfound muscles, Miley Cyrus hooked up with a Brazilian beauty, and Edward Snowden just published a whole new set of revelations about the increasing encroachments on privacy in the name of national security.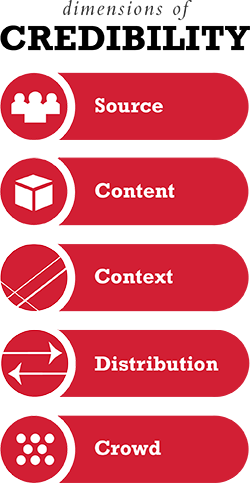 With more than 400 million tweets issued each day and hundreds of other news streams churning out billions of news items, more time is increasingly being spent on production than on verification. It's largely up to media consumers to determine what they believe, but it's more than just examining what someone said.
How did they say it? Who repeated it? How was it published? How does this compare to other content the source has generated?
Systematically, there are at least five layers of credibility. These include source, content, context, distribution, and crowd.
Credibility has both subjective and objective components. Subjective qualities include value judments based on appearance, how the source looks, how the message is presented, if the context is appropriate to the message's content.
Objective measures includes the credentials of a source or its publishing channel as well as its past reliability.
The layers aren't linear and can be independently modified. Media consumers can themselves become producers if the context warrants it. Holistically evaluating the veracity of a message through multiple methods will likely yield a more accurate assessment than using a single criterion.